Have you just arrived home after glorious weeks off? Is your phone full of summer memories? Then you mustn't miss these 10 tips on fun (and maybe for you brand new ways) to enjoy your holiday photos. We have listed both new entries and also some old favourites from Smartphoto's wide range of photo products.
1. Time passes but memories persist!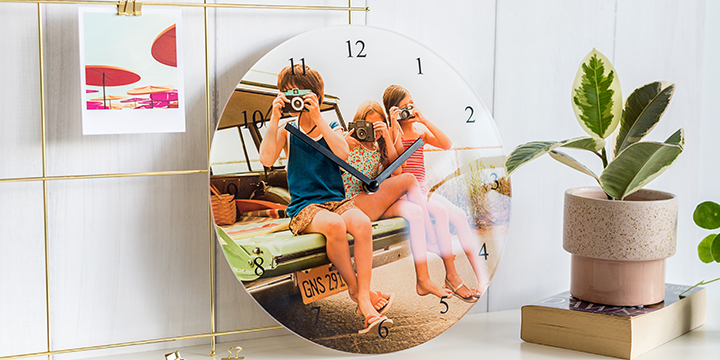 Whether you've had a lovely vacation or been on the road, you'll probably have a favourite (or maybe many favourites?) among your holiday photos. A fun way to enjoy your favourite photo is to put it on a clock. Our photo wall clock is available in several different shapes and sizes, and you can find all the variants here.
2. Bring your holiday memories into your everyday life!
Bring that summer feeling and memories of a wonderful holiday back into your everyday life. For example, by putting your favourite holiday picture on a mouse pad! They're available as ergonomic or regular mouse pads. You can find all the variants here.
3. Spice up your autumn Friday fun with your holiday photos!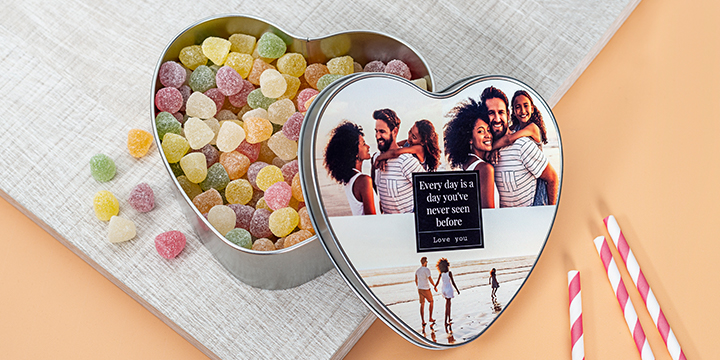 We quickly fall into old habits after a holiday, and some habits are more welcome than others! Like fun Friday nights, for example. Spice up your autumn Friday fun by serving sweets and snacks from a self-designed cookie tin. They're available in several different sizes and formats. You can find all the variants here.
4. Decorate with your holiday photos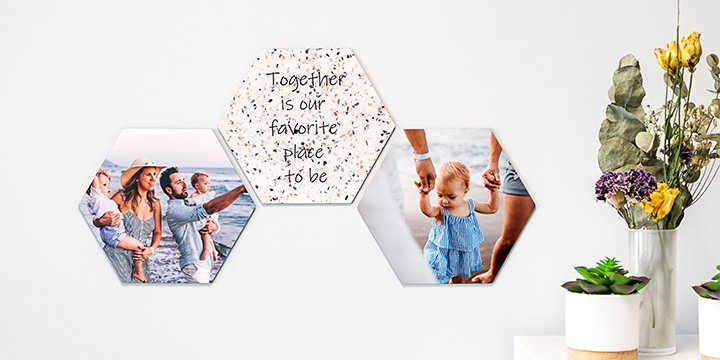 Another way to enjoy your holiday photos is to create photo art. There are lots of different materials to create photo art at Smartphoto. Everything from traditional canvas to photo posters. But this post is about different ways to enjoy your photos. Therefore, we want to give a shout to these fun aluminium hexagon photo tiles. They can be purchased in different packages ranging from one to eight hexagon tiles. You can find them here.
5. Play memo games with your holiday photos!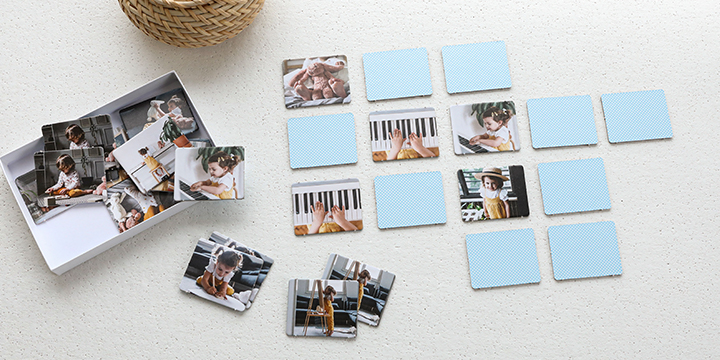 When we're back to everyday life and the evenings get darker, what could be better than a game night! It'll be extra fun if you create games from your holiday pictures! For example, a memo game! You can find other card games that you can personalise with your pictures here.
6. A new summer memory every month!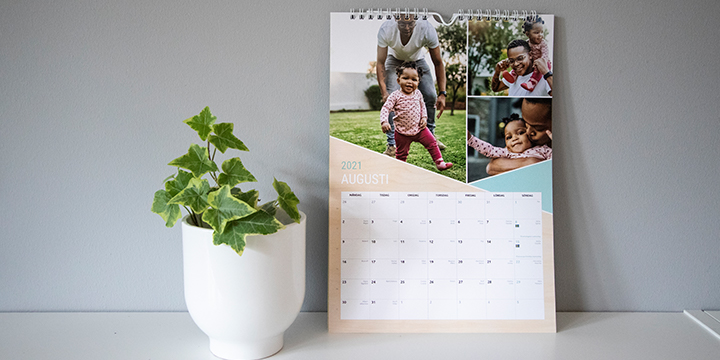 Here's a real favourite! Create a wall calendar from your summer photos. Then, you can enjoy a brand new summer memory each month all year long. You can find all our wall calendars here.
7. Create a photo wall with photo booth prints!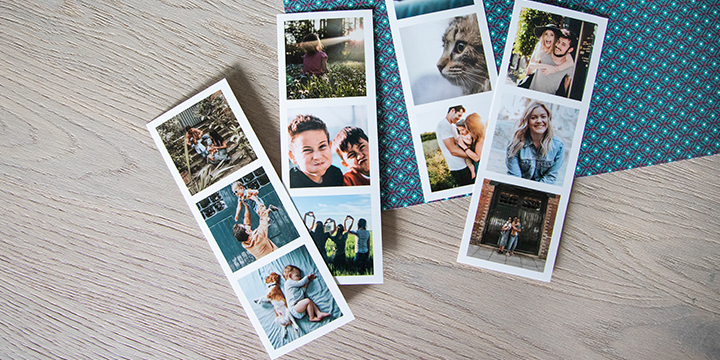 Develop your summer photos as photo booth prints. A fun alternative to regular album images. Perfect for both scrapbooking your holiday photos or for creating a unique photo wall. It's great to experiment when creating your photo booth prints, because there are many choices to make in Smartphoto's editor. Everything from switching the background color or pattern to adding text and having different numbers of images per strip. Did you know that they're also available as magnetic photo booth prints? Why not check out this DIY on how to make a magnetic photo wall!
8. Create photo art that brings you joy!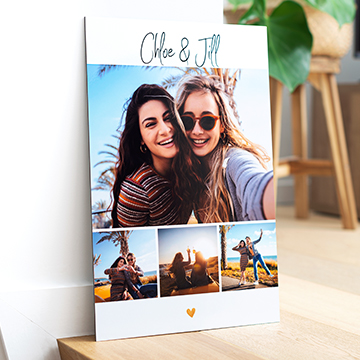 Decorate you home with things that bring you joy! And what will make you happier than pictures of people you love and experiences you've shares? Create a collage of your favourite photos on an Alu-poster. And what exactly is an Alu poster? Well, it's a complete board where your photo is printed on 2 heavy aluminium plates with a polyethylene core with matching mounting accessories. A complete interior detail without you having to buy a frame!
9. Always carry your best summer memory!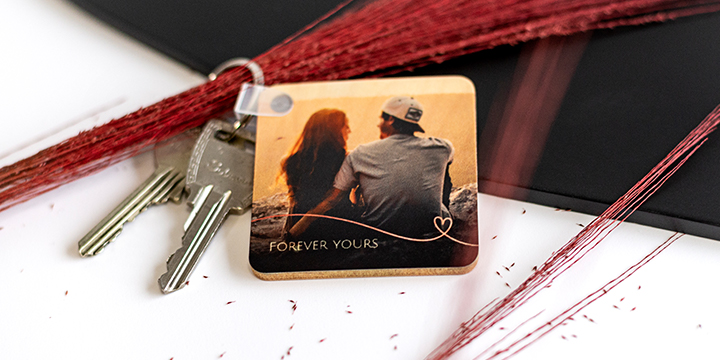 Carry your favourite memory with you wherever you go by mounting it on a keychain. At Smartphoto there are several different keychains to choose from. You can find them all here. In the photo above you can see  wooden keychain.
10. For people that want to enjoy all their holiday photos!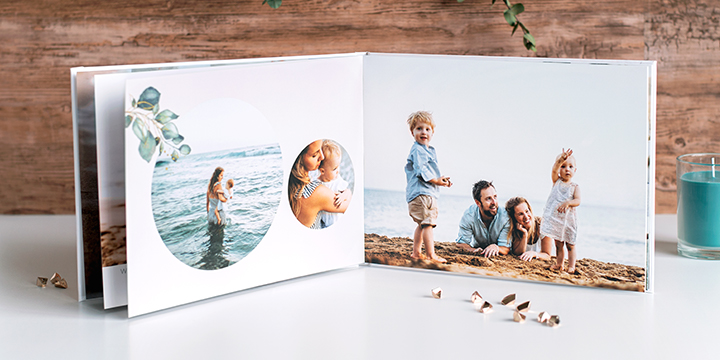 If your phone is full of pictures after a lovely holiday, there is a way to enjoy all your summer memories that beats everything else! Check out our  photo books. You can customise and create one exactly according to your needs. For example, choose the favourite  photobook L with personal cover. Simply upload all the images you want to include and select "autofill" when creating your photo book. Then, your pictures are automatically placed in chronological order in the book. A complete photo book in just a few minutes! How good does that sound?
Please share what you create with your pictures!
We love to see the things you create with your pictures! So, please share your creations on Instagram! Use #mysmartphoto, a hashtag where our customers inspire each other to create fun and beautiful things using their photos!